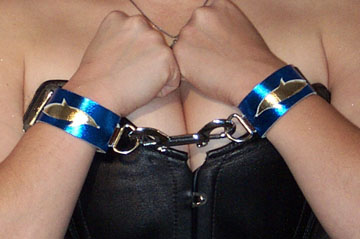 Cuffs shown are metallic blue leather over gold with a D-ring attachment point and locking roller buckle.
Price for Cuffs shown is $60
TPP-SR-K0061
Pair of Dolphin Patterned Cuffs - Narrow
Longwatcher was once asked if he could do dolphins, this is the result.
Alternatives include:
A.) The pair can be made as shown with a left and right to the cuffs or the pattern can go in the same direction on both cuffs.
B.) Due to the large size of the pattern only one dolphin will fit on each wrist or ankle cuff. It may be possible to get a second on a thigh cuff. Also, for most wrists only one d-ring will fit.
C.) All buckles are available for this cuff set.
Pricing:
$45 Single piece with no back
$60 Two piece (top and backing
Add $10 if top piece is suede
Add $3 if backing is metallic
Add $1 per additional D-ring

D.) The higher price for this pattern is based on the difficulty to cut out.