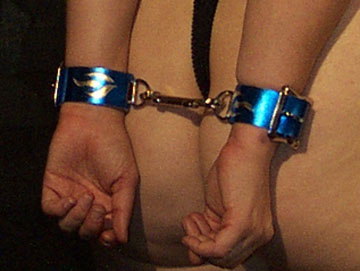 Cuffs shown are metallic blue leather over gold with a d-ring attachment point and locking roller buckle.
Price for set of Cuffs shown is $60
TPP-SR-K0051
Pair of 3-Point Flame Patterned Cuffs - Narrow
This pattern is popular in black and red which may be the reason we never seem to have one around when the models are present.
Alternatives include:
A.) The pair can be made as shown with the pattern going in the same direction on both cuffs or with a left and right cuff.
B.) If for ankles or larger wrists the pattern can be done in alternating directions (this is the default)
B.) All buckles are available for this cuff set.
Pricing:
$45 Single piece with no back
$60 Two piece (top and backing
Add $10 if top piece is suede
Add $5 if backing is metallic
Add $1 per additional D-ring