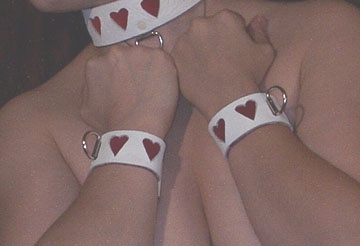 Cuffs shown are white leather over red suede with a D-ring attachment point and Hasp Lock.
Price for a set of Cuffs shown is $75
TPP-SR-K0011
Pair of Heart Patterned Cuffs - Narrow
This pair of Submissive Reaction cuffs are fully functional yet give that valentine's day look.
Alternatives include:
A.) The pattern can be either along the cuff or across the cuff (as shown at left).
B.) The pair can be made as shown with a left and right to the cuffs or the pattern can go in the same direction on both cuffs.
C.) All buckles are available for this cuff set.
Pricing:
$60 Single layer with no back
$75 Two layer (top and backing)
Add $10 if top piece is suede
Add $10 if backing is metallic
Add $2 per additional D-ring

Note: The wide version of this cuff is TPP-SR-K0010