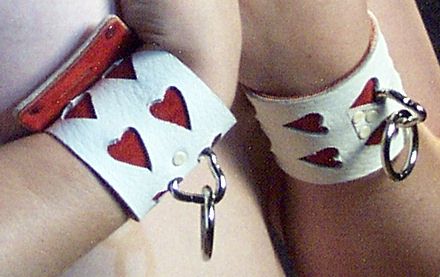 Cuffs shown are white leather over red suede with a halter loop attachment point and Hasp Lock.
Price for set of Cuffs shown is $90
TPP-SR-K0010
Pair of Heart Patterned Cuffs - Wide
This pair of Submissive Reaction cuffs are fully functional yet give that valentine's day look.
Alternatives include:
A.) A D-ring in place of the Halter loop. This is not recommended as it will look too small.
B.) The pattern can be either along the cuff (as shown at left) or across the cuff.
C.) Single 1" or Dual 1/2" buckle locks can be used.
Pricing:
$80 Single piece with no back
$90 Two piece (top and backing
Add $10 if top piece is suede
Add $10 if backing is metallic
Add $5 per additional halter loop

Note: The Narrow version of this cuff is TPP-SR-K0011