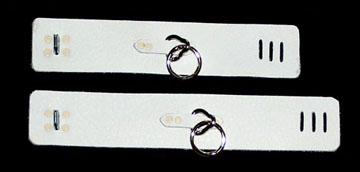 Cuffs shown are white leather with a halter loop attachment point and Hasp Lock. The top is a wrist cuff and the bottom is an ankle cuff. Note: you can tell this is a custom piece since it only has three buckle openings.
Price for both pairs of the cuffs shown is $45
TPP-SR-K0000
Pair of Plain Cuffs - Wide
This pair of Submissive Reaction cuffs are simple yet functional.
Alternatives include:
A.) Additional attachment points can be added.
B.) D-rings can be substituted for the halter loops.
C.) All buckles are available for this cuff set.