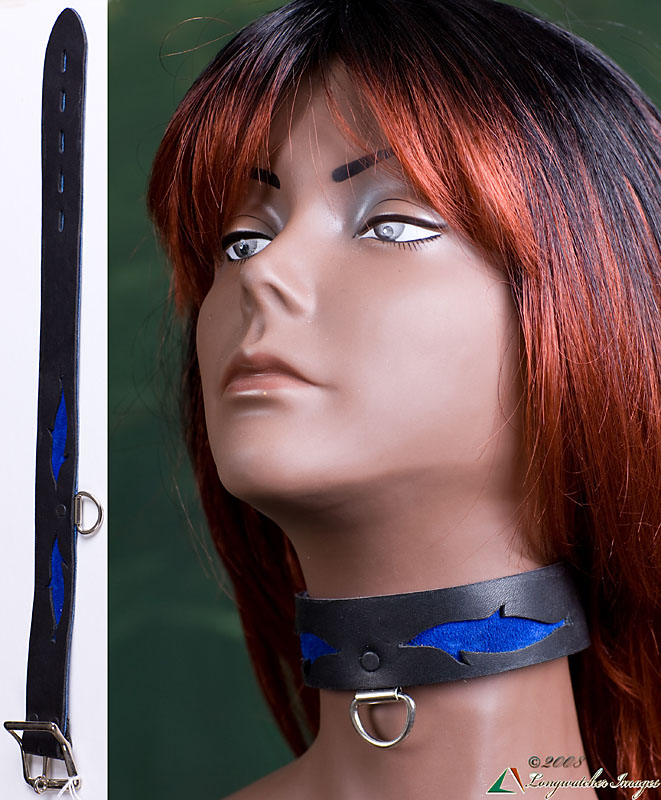 Image is of SR-C0061 A Black Diamond Tan Leather over Blue Suede Leather,
with one bottom-facing D-ring and Locking Roller Buckle.
Price of Collar as shown: $60
TPP-SR-C0060
Dolphin Pattern Collar
Longwatcher was challenged with "instead of diamonds and hearts, how about a Dolphin" He replied, "I can do that." Thus was born the Dolphin pattern. And, yes he can do Orcas, Sharks and a lot of other beasties if asked.
Please notice that the Dolphins are all facing each other, this is one of the few patterns that have a distinctive right and left in the matching cuffs.
Alternatives include:
A) A center front attachment point. Note that the Dolphins will be move outwards slightly
B) Three attachment points. The outside attachment points will be placed to the outside of the Dolphins. Due to the large size of the pattern none, one, or three attachment points are the only workable combinations.
C) The D-Post is a viable alternative to the standard d-ring attachment point, but will change the appearance from that shown above.
D) Longwatcher won't place Halter loop and ring holder attachment as the Dolphin pattern will have to be moved to far too the side for it to look good.
E. All buckles are available for this collar.
Custom Pricing:
$50 SR-C0060 Unbacked Collar
$60 SR-C0061 Backed Collar w/1 attachment point
Add $5 if top piece is suede
Add $5 if backing is metallic.
Add $2 per Halter loop or Ring Holder

Other Images of this collar Pattern