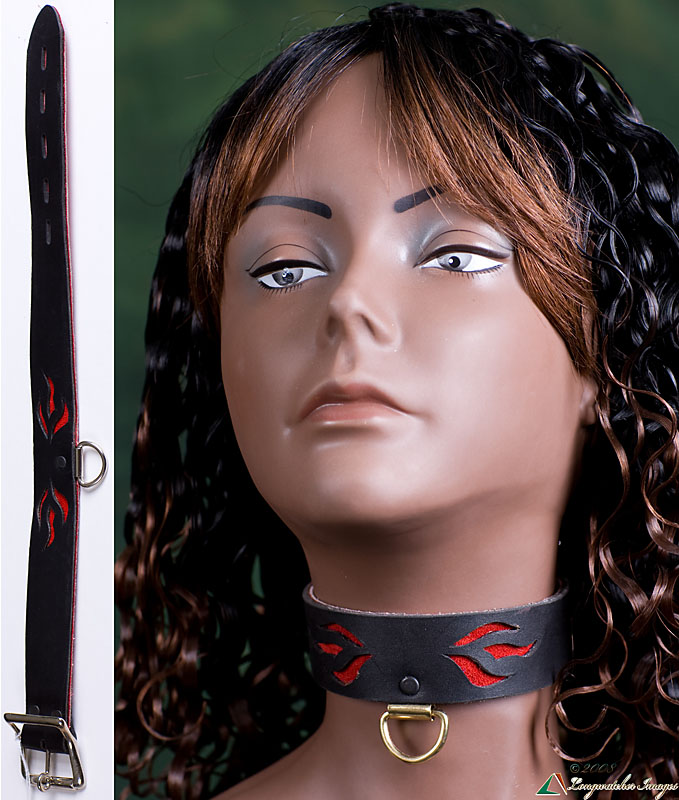 Collar shown is Black Diamond Tan Leather over Red Suede
with bottom down D-ring and Locking Roller Buckle.
Price for Custom made Collar as shown: $50
TPP-SR-C0050
3-Point Flame Pattern Collar
The Submissive Reaction collar shown (SR-C0051), is with a Bottom-front D-ring attachment point.
Alternatives include:

SR-C0052
With A Center-front attachment point.
- Larger collars can have 4 flames instead of only two
SR-C0053: Two, three, or four attachment points. Note that unless they are placed in the bottom down position as shown, each attachment point will remove a flame position from the pattern. Even in the down position the flames will be spread out more.
SR-C0054: Halter loop and ring holder attachment points can be used, however, these are not recommended.
SR-C0056: The D-Post is a viable alternative to the standard d-ring attachment point, but will change the appearance from that shown above.
SR-C0050 is without an attachment point.
All buckles types are available for this collar.