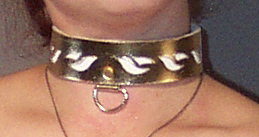 Collar shown is Metallic Gold Leather over White Leather with bottom down D-ring and Locking Roller Buckle.
Price for Collar as shown: $50
TPP-SR-C0040
2-Point Flame Pattern Collar
This Submissive Reaction collar can be made as shown, or with out a bottom-front D-ring attachment point.
Alternatives include:
A.) A center front attachment point. Note that the middle flames will be move outwards slightly
B.) Two, three, or four attachment points. Note that unless they are placed in the bottom down position as shown, each attachment point will remove a flame from the pattern. Even in the down position the flames will be spread out more.
C. The D-Post is a viable alternative to the standard d-ring attachment point, but will change the appearance from that shown above.
Pricing:
$35 SR-C0040 - Unbacked collar
$40 SR-C0041 - Backed Collar
Add $5 if top piece is suede
Add $5 if backing is metallic.
Add $2 per Halter loop
Add $1 for each additional D-Ring Attachment Point

D. Halter loop and ring holder attachment points can be used, however, these are not recommended.
E. All buckles are available for this collar.