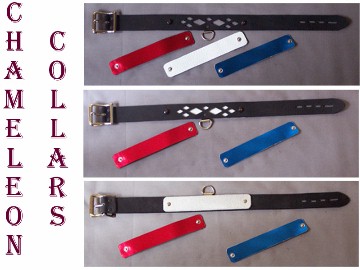 The standard width (which fits all patterns below) is 1 1/4", some patterns can be done at 1".
Note: Optionally instead of snaps, Chicago screws can be used; however the Chicago screws may extend past the leather due to the smaller thickness of leather used.
TPP-SR-CCxxxx
Chameleon Collars
These Submissive Reaction collars are made to go with almost any outfit without clashing with your colors. They consist of a patterned front piece with a snap on back piece in your choice of colors.
Three different back pieces are included in the price of the color and additional back pieces can be purchased.
Some uses for these collars include matching your outfit, designating training/status levels in a household, or just to confuse people as to what color your collar really is.
Alternatives include:
A) Attachment Point Options:
- None
- A front down D-ring attachment. (Will work with all current patterns)
- A center front attachment point (Will not work with some patterns)
- One or Three attachment points
(Outside D-rings will be located just beyond snap)
B) The D-Post is a viable alternative to the standard d-ring attachment point, but will change the appearance from that shown above.
C) Buckles: All buckles can be used on this collar
Pricing:
$40 SR-CC0xxx Any Cut Pattern Available on our main collar page (see below also) - Comes with 3 back pieces free in your choice of available colors
$4 SR-CC1001 Additional back piece(s) at time of order
$5 SR-CC1002 Back piece(s) ordered individually

Other Images of this collar