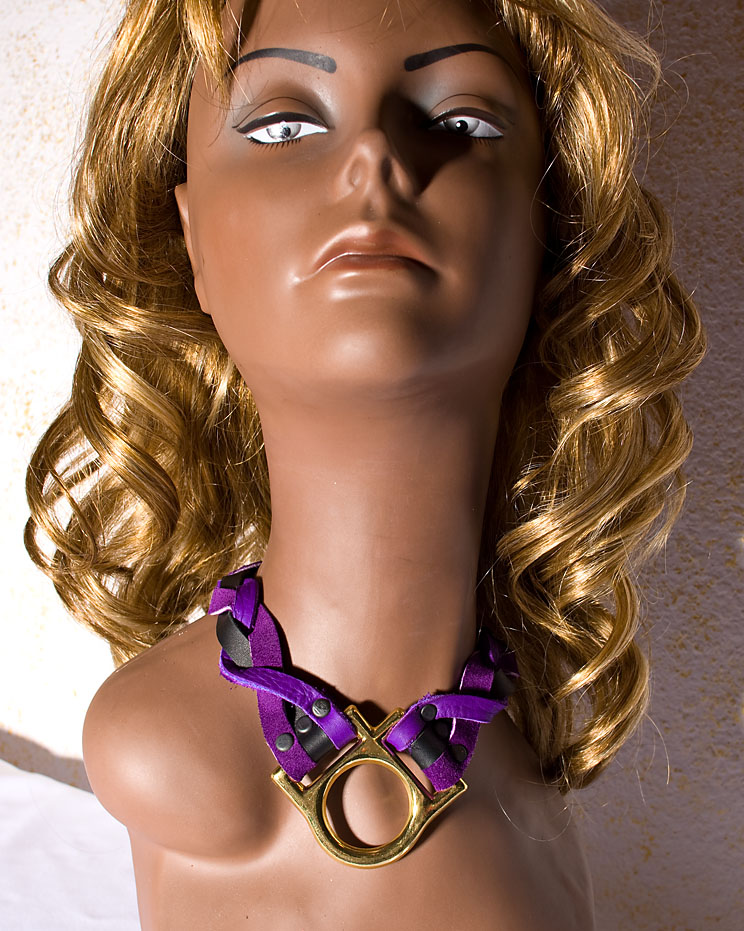 Collar as shown is black, and Purple Leather and Purple Suede with a Locking Roller Buckle, It is 1 1/4" in width at the buckle.

Price for collar shown is $45

TPP-SR-C0190
Braided Halter Pattern Collar
Longwatcher created this collar based on a challenge from a customer. The picture doesn't do it justice and shows only the prototype collar.
Because of the design, I would treat this more as a Fashion Collar then a Functional Collar, but it will hold up to some abuse, just not as much as most of the other collars we make.
Custom Alternatives include:
A.) Other Colors are available, but check first as only some leathers will work.
B.) The collar design is dependent on a halter square style attachment point a few variants are available.
- Both Nickel and Brass 2-sided halter squares are available although brass are limited to available supplies.
- Only Nickel 3-sided halter squares are available.
- A Ring could also be used, but will change the look.
C.) All buckles are available for this collar.
Custom Pricing:
The only pricing variant would be to use rubber or patent leather for one or more of the strands, both of which will add $5 total.


Other Images of the Prototype Collar