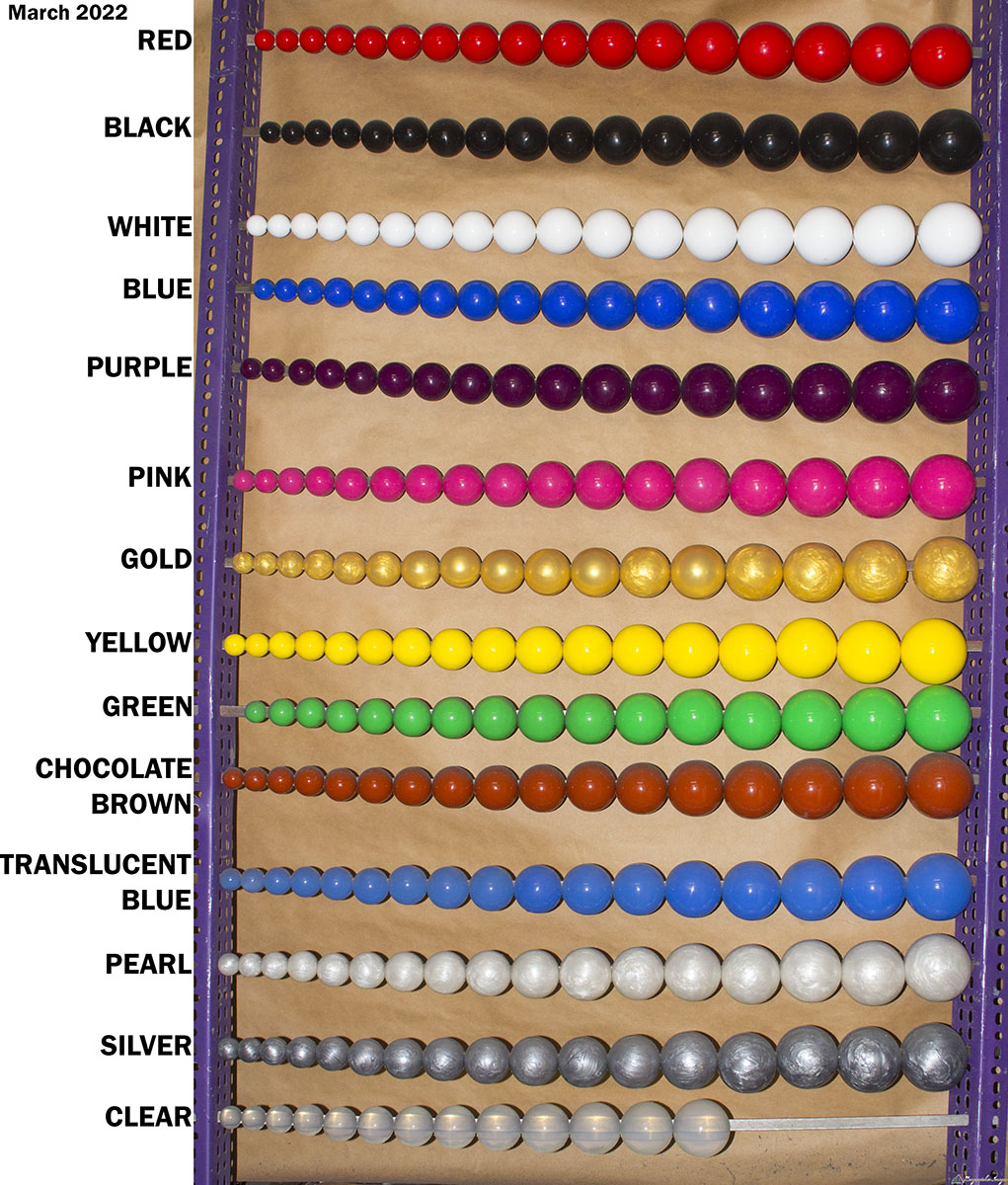 Available Medical Grade Silicone Balls, for ball gags, colors and sizes as of 08 Aug 2015.



Measurements for balls for ball gags:



For which size ball is recommended
(with the caveat this is only a educated guess):

Ball diameter should not exceed open mouth Height measurement by more then 1/8th of an inch. Best is the diameter is at or below open mouth height. (measure bottom of top teeth to top of bottom teeth wide open)

Reduce size if the gagee might have any jaw problems.


If measurement show 1.5" or smaller, recommend adding 1/8" to size.

If Measurement shows 2.5" or larger recommend using that size or 1/8" smaller as size.
TPP-SR-BG0011
Medical Grade Silicone BALL for Ball GAGS
This page is for ordering just the balls without the strap.
NOTE: T
ranslucent blue balls are a limited edition and available on the linked page


If you want more than one ball or more than one ball gag w/strap, please email Longwatcher at sales@pleasureparadox.com and he can give you pricing for that until we have a proper shopping cart.

Most of the balls have the same 3/4" by 1/8" strap hole*. The hole is molded into the ball.
The very small (1" and 1.25") have a 1/2" wide hole.
The very large, 2.625" and larger have a 1" wide strap hole.
We aalso have a 50mm 3/4" round strap hole version in Red and Black.


Shipping
Within USA is $6.50 and is by USPS small priority flat rate box, except for Large size and larger sizes which are by standard priority mail. Virginia Residents pay 6% sales tax because I don't know how to speparate out parts of Virginia that don't have to pay the extra 1% state tax on Hampton Roads or NoVA.
NOTE: Shipping price is based on USA, send email for non-USA customers.

Alternate International shipping policy: as an option to NON-USA (international shipping) customers, If you select the "Buy Now" button, we will send you a request for payment for any additional fees needed for shipping to your country. Shipping is likely to be via USPS First Class Parcel, although if shipping is cheaper by a faster method we may use that. If ordering more than one item shipping will be requested or refunded based on the actual cost of shipping from the multiple items ordered. (at some point (hopefully soon) we will have a shopping cart system that works, but for now this should make ordering easier for our international customers). Please note shipping to most Non-USA locations for a single ball gag will be about $22.50 after 17 Jan 2016. The three smallest may make it under the line and be around $14.
We recommend that Gags should be one person items only and thus we sell them "As Is"
Any implied warranty of merchantability or fitness is for use as a ball with a buckled strap as a ball gag in the mouth between consenting adult humans for duration not to exceed 1 hour, with open nasal passages (no illness or other medical issues) in the presence of another attentive human and the ball purchased fits comfortably in the mouth with no jaw complaints. The leather (or other material) strap should be checked before each use to make sure it is free of tears and is cabable of pulling the ball from the mouth if needed.


Pricing:
$18 TPP-SR-BG0011T# One 1.0" (25.4mm) (Tiny) Ball for Ball Gag.
(NOTE: This size has a 1/2" wide strap hole)
This is a VERY TINY BALL.
$19 TPP-SR-BG0011V# One 1.25" (31.75mm) (Extra-Small) Ball for Ball Gag.
(NOTE: This size has a 1/2" wide strap hole)

$20
TPP-SR-BG0011S#
One 1 1/2" (38.1mm) (Small) Ball for Ball Gag.

$20

TPP-SR-BG0011R#

One 1 3/4" (44.45mm) (Medium-Small) Ball for Ball Gag.


$20
TPP-SR-BG0011N#
One 1 7/8" (47.625mm) (Medium) Ball for Ball Gag.

$20

TPP SR-BG0011M#

One 2" (50.8mm) (Medium-Large) Ball for Ball Gag.


$21
TPP SR-BG0001L#
One 2 1/8" (54mm) (Large) Ball for Ball Gag.

$22

TPP-SR-BG0011X#

One 2 1/4" (57.15mm) (Extra Large) Ball for Ball Gag.
$40

TPP-SR-BG0011Z#

One 2 1/2" (63.5mm) (Super Large) Ball for Ball Gag.