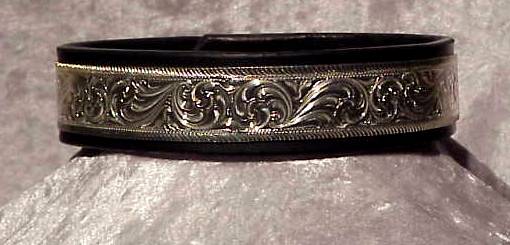 Shown is a 1 1/4" Sterling Band with Flashing (rope pattern edge on the band) Choker on Black Latigo lined black Suede.
Price for this item: $80

NOTE: Only 7/8" and 1/2" bands are currently available.
7/8" go with 1" and larger width collars
1/2" will go with any collar 5/8"" and wider.
TPP-K5-C0040
Sterling Collars
NOTE: The bands for this style of collar and cuffs are becoming unavaible, I can no longer make ankle cuffs and have a very limited supply for wrist cuffs (although some bands for the wrist sizes still appear to be available). I do have quite a few 12" bands for 13.5" neck size or larger collars/chokers, because I ordered a bunch when someone went out of business a couple years ago.
It would be nice to have a great story to put here, but to be honest, Kevin5 decided to make this collar after looking through a supply catalog and finding the sterling plates that give this collar its style.
Fashionable enough to wear with a black gown as a choker, but with a locking turn buckle in back to keep this accessory on the wearer.
Options Include
A) Flashed, or non-flashed, Flashing adds a slightly more country-western feel to the collar with a rope like pattern at the edges.
B) Custom colored lining.
- Black, Blue, Purple and Red are usually in stock.
C) Select attachment points can be added;
- Bottom mounted D-ring can be added to all collars,
- Footman's Loop and ring attachment point can only be added if the narrow bands are used without cutting into the wider band to mount the loop (there is an extra charge of $10 for this per loop added).
Pricing:
$70 with no backing (note the screws that hold the band onto the leather collar will be visible and felt on the neck)
$80 with suede backing
-$5 if ordering at same time as a set of cuffs
Includes one attachment point if desired

K5-C0040 is Choker with clean edge band - no attachment point
K5-C0041 is Choker with rope edge band - no attachment point

K5-C0042 is Collar with clean edge band - with bottom-mounted D-ring
K5-C0043 is Collar with rope edge band - with bottom-mounted D-ring

K5-C0044 is Collar with clean edge band - with Footman's Loop
K5-C0045 is Collar with rope edge band - with Footman's Loop
note: the footman's loop does not handle as much stress as other attachment points - recommended for collars or decorative cuffs only

K5-C0046 is Collar with clean edge band - with Halter Loop and ring
K5-C0047 is Collar with rope edge band - with Halter Loop and ring