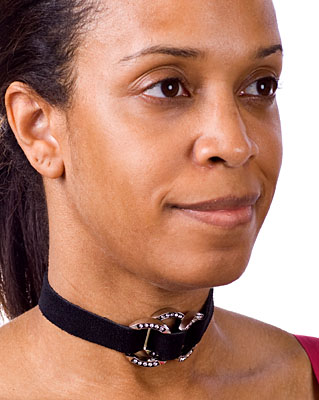 Collar as shown is Black Suede Leather with a standard Buckle. It is 3/4" in width.

SRB2-C0011 is the order number for above
Price for collar shown is $18

TPP-SRB2-C0011
Fancy 3-Ring
Collar
This collar is just a variation of one of the Bound2Please collars, with sparkle rings that Longwatcher found a source for.
Custom Alternatives include:
A.) The number of rings can be changed in pairs.
B.) All buckles are available for this collar, although the conventional tongued buckles (locking or non-locking) are recommended.
Custom Pricing:
$4 per additional pair of rings
$1 for a sparkle rivet in the center

A center concho is also possible, ask for availability and prices
Other Images of this Collar Pattern