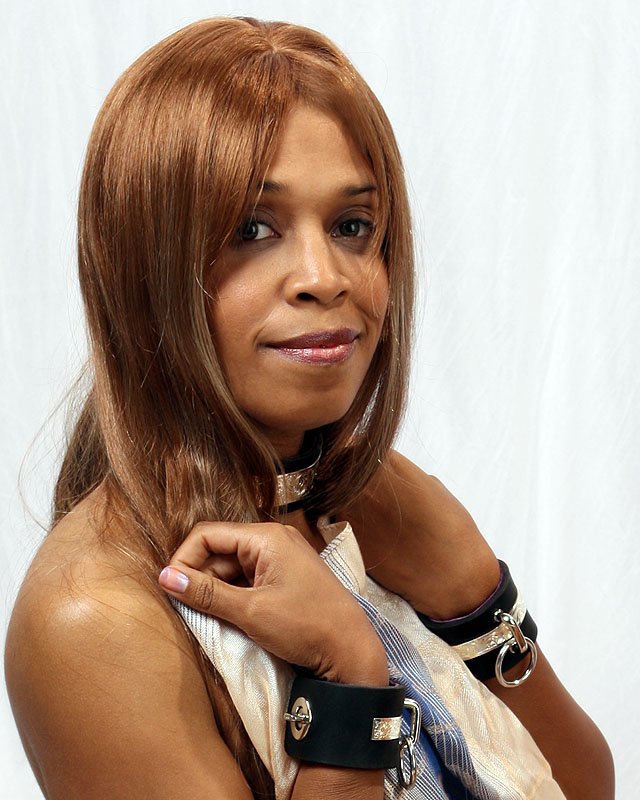 Collar as shown is Black Latigo Leather over Purple Suede Leather with a twist lock.
It is 1 1/4" in width.
Price for Set shown is $120

TPP-SR-S0002
Sterling Silver Collar and Cuff Set
The Collar was created by K5 and the Cuffs were created by Longwatcher, they make a fine set together.
***As of 15 Jun 2008*** The cuffs are still under-going full testing so are sold with the understanding that we are not sure of their full functionality as useable cuffs, but testing so far indicates no problems with some significant stresses. Also, we may not be able to replace/repair the cuffs if they fail, but will refund the money or try to find an acceptable substitute should they fail within the 1-year warranty period..
Custom Alternatives include:
A.) The number of attachment points can be changed.
B.) All buckles are available for this collar. However, twists locks or hasp locks are the only ones recommended, Buckle locks are highly not recommended for the cuffs.
Custom Pricing:
Standard is with or without a single D-ring positioned in the bottom front of the collar. Additional D-rings can be added for $1 each.
Using a Footman's loop and ring for the collar's attachment point would add $5 to the cost.
Each additional Footman's loop and ring would add $5 each to the cost.
Other Images of this collar Pattern