Custom Alternatives include:
A.) Other Colors are available, but check first.
B.) Several Colors for the Swarovski Conchos are available. Please note: we can actually make the berry conchos (the center piece) out of a lot more colors and combinations then shown. We were taught how to make them ourselves and as long as we can get the Swarovski crystals...
C.) All buckles are available for this collar.
Chain Types Available (the Small single link are the recommended chains for this collar)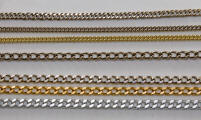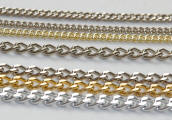 Top to Bottom:
1=Double Link
2=Small Single Link Silver
3=Small Single Link Gold
4=Medium single Link Silver
5=Flat Edged Silver
6=Flat Edged Gold
7= Flat Edge Aluminum (only small amount on hand, unable to order more)