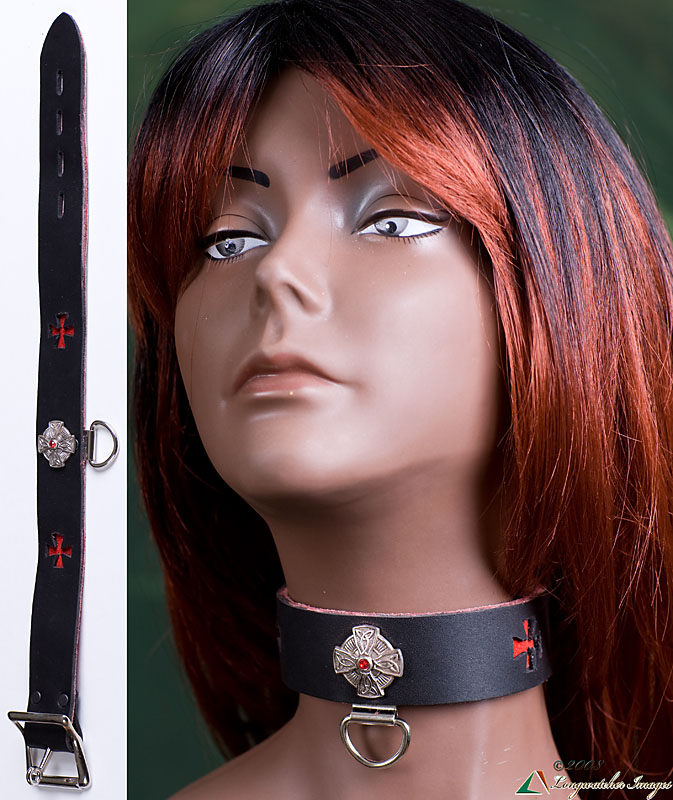 Collar as shown is black Leather over Red Suede with a Locking Roller Buckle, 2 cross pattern cuts and bottom mounted D-ring. It is 1 1/4" in width.

SR-C0153 is the order number for above
Price for collar shown is $40

TPP-SR-C0150
Celtic Cross Pattern Collar
Longwatcher saw the cool new Celtic cross conchos available so created this collar, it will be available as long as the parts are available. He added the cut cross patterns as a variant to add some flavor
Custom Alternatives include:
A.) The number of attachment points can be changed.
B.) All buckles are available for this collar.
C.) As shown below it can be made with or without the cut cross patterns
D.) The Celtic Cross is available with a clear, red or blue crystal in the center.
Custom Pricing:
SR-C0150 $30 Single concho cross, no cut patterns
SR-C0151 $35 Celtic cross with Celtic Concho
SR-C0152 $40 Celtic cross with Celtic Concho and sparkle rivets
SR-C0153 $40 SR-C0153 Celtic Cross and Cross Cut Pattern
$5 for each additional cross pattern cut
$1 per additional attachment point, per piece. Each piece comes with one attachment point.
(a maximum of 3 points are recommended)
$1 per additional Celtic or Florentine Concho

Other Images of this Collar Pattern



SR-C0150
Black over Blue with a single cross and no attachment point.



SR-C0151 Celtic Cross with Celtic Concho



SR-C0152 Celtic Cross with Celtic Concho and Sparkle Rivets





SR-C0153 Celtic Cross and Cross Cut Pattern