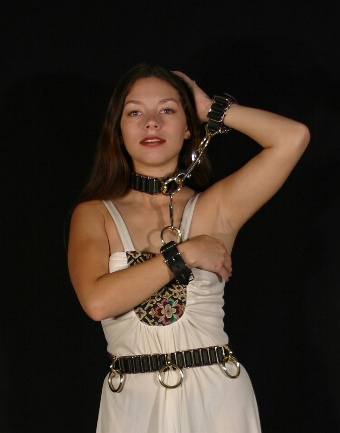 Collar as shown is Black Leather over Purple suede Locking Roller Buckle and halter loop attachment point.
Price for collar shown is $35
Black over Purple, one Halter loop and Locking Roller Buckle (1 1/4" width) (14" to 18" neck size)
TPP-SR-C0130
Threaded Strap Pattern Collar
Longwatcher can not claim original credit for this design. However, he has gotten permission from the original creator to produce the design, but he has made some improvements over the original design that we think you will like.
Custom Pricing:
Color=has a second layer of of leather with a different color
Black=single color, single layer piece, typically black.

$40 SR-C0130 - Threaded Strap Pattern Collar

$37 SR-C0131 - Threaded Strap Pattern Choker

Email for any of the following:

$75 SR-K0130 - Threaded Strap Pattern Cuffs Pair, Color


$90 SR-K0131 - Threaded Strap Pattern Belt, Color


$250 SR-S0130 - Threaded Strap Pattern Set (Collar, belt, wrist and ankle cuffs)

$3 per additional attachment point, per piece. $5 for a pair on the side of a collar.
Each piece comes with one attachment point.

Custom Alternatives include:
A.) The number of attachment points can be changed. However, length determines how many can be added.
B.) All buckles are available for this collar. However, anything other then a tongued buckle (regular or locking) is not recommended.
C.) With a different style buckle smaller or wider widths are available.