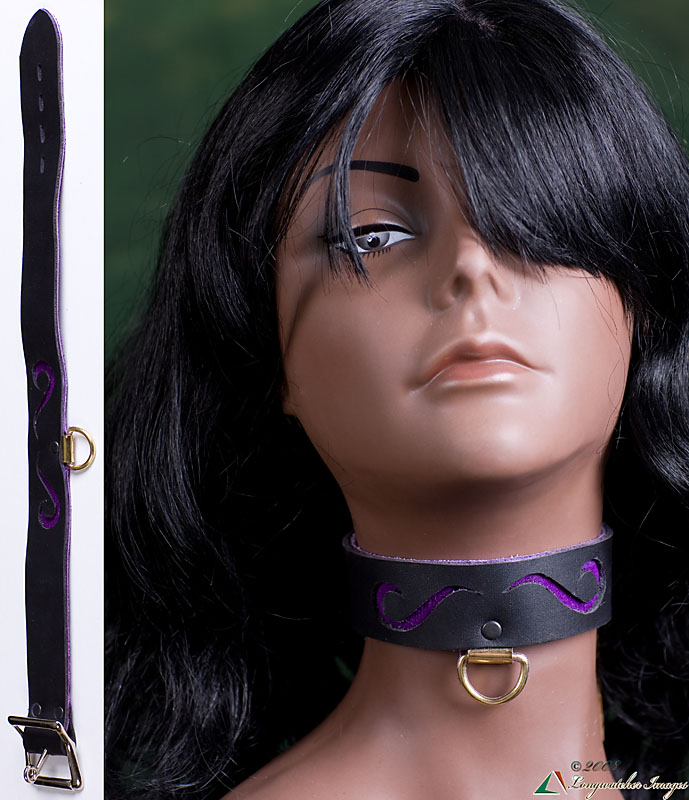 Collar as shown is Black Leather over Purple suede Locking Roller Buckle and bottom mounted D-ring attachment point. It is 1 1/4" in width.

SR-C0101 is the order number
Price for collar shown is $50

TPP-SR-C0100
Scroll Pattern Collar
Longwatcher created this pattern at the request of a customer, using the customer provided drawing, Longwatcher was able to create the template to make it happen. The customer released the pattern, so we can offer it to you.
Custom Alternatives include:
A.) The number of attachment points can be changed.
B.) All buckles are available for this collar. However, anything other then a tongued buckle (regular or locking) is not recommended.
Custom Pricing:
$5 per additional scroll cut.

$1 per additional attachment point, per piece. Each piece comes with one attachment point.
(a maximum of 3 points are recommended)

Other Images of this collar Pattern


SR-C0102 Black over Red
Center D-ring attachment point



SR-C0101 Black over Purple with Bottom D-ring Attachment point