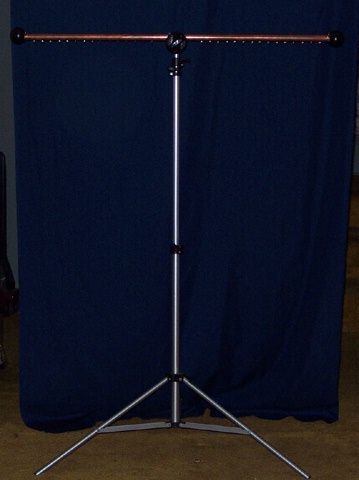 Price for Set as shown: $200.00
TPP-K5-M0001
Portable Toy Stand
So, you've spent several hundreds, if not thousands, of dollars on your toy collection, and you enjoy going to the local clubs. While we haven't been to all the clubs in the country, all the ones we have been to have a noticable lack of space for laying out your toys. This means you have two options, either rumaging around in your bag during the scene looking for the crop you've just been inspired to use, and getting everything tangled up, or lay your toys out on the (hopefully not-too) dirty floor and having to bend over every time you want to change implements, not to mention the cleaning job you have to do when you get home.
Well, we are happy to say we like our solution. Using a collapsable stand and pivoting top arm, this stand will collapse down into a 36" long, 4" round(ish) bundle weighing approximately 4 pounds.
The top arm is 36" long, with 28 hooks along its length at 1" increments. It is easy to set up and take down, and makes selecting the toy you want a breeze.
The height is adjustable, so whether you are tall or short, the toys will always be at the right height to grab.

Pricing:
$200 K5-M0001 Portable Toy Stand
Options Include
A) Longer or shorter top arm
B) Hooks on the back of the top arm to hang an organizational flag, or piece of fabric to give your scene a little privacy. Or to keep the sub from seeing what you have set up on the stand....