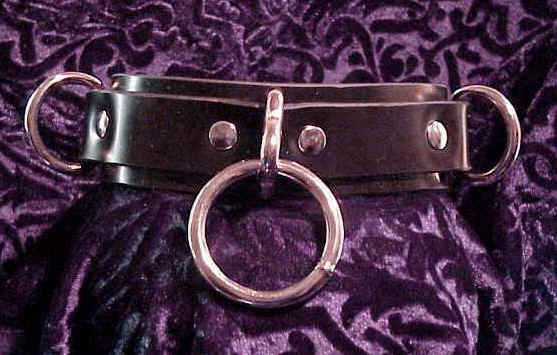 Price for Set as shown: $45.00
TPP-K5-C0110
1-1/2" Rubber Collar


NO LONGER AVAILABLE AT THIS TIME
So, one of our testers made the mistake of saying at one point that they didn't have to follow orders in the shower because they didn't have a collar on.
With two side D-Rings, and a front O-ring, this collar has enough fastening points to be useful in every day scenes, as well as the added advantage of being rubber, so you can get it as wet as you want. Cleaning is simple, just use soap and water. The rivets and rings are nickel-steel, so won't tarnish, and have a lovely shine to them.
This collar features a locking roller buckle on the back.
Options include:
A) Brass hardware instead of Steel