TPP-B2-NC0002
Clover Clamps
Nothing special, we just happen to keep some of these in stock.
Upon Customer request, we can de-tune the clamps for you so they do not start as tight, however this aspect of clamps will be considered "As Is" for returns as we can not provide any accuracy to this other then they won't be a tight as before.
Pricing:
$15 TPP-SR-NC0002 Set of chained clover clamps
$12 TPP-SR-NC0002 Set of Chained Clover Clamps with total order over $25. (note you must email for this price)
$0 detuning service if when ordered.
Images of this product in use: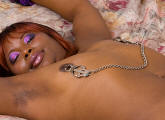 Porshia with Clover clamps